Brand Range
The brand range concept we have developed to day came to us after my wife, Karen Maher came back from the shops complaining about the poor range and diversity of nutraceuticals available from the sea. We then did some research on the internet and uncovered a few sites providing products similar to what we now produce and the next generation of products we have in the pipeline for 2011. However, nearly all of the products we came across that were supposed o be "seaweed"-based products had little or no seaweed actually in them, often many were just extracts, with minimal seaweed content, and almost all were adulterated with a plethora of man-made chemicals (see current concerns about the cosmetic industry). So we set about to change this trend, by producing a range of seaweed and marine clay based products that are and do exactly what they say on the packet.
Organic Seaweed Product Ranges Available
Ocean Fresh Seaweeds Ltd. currently markets 3 brands: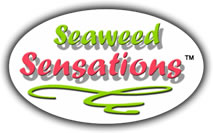 At OFS, we specialise in seaweeds used in the promotion and maintenance of health and well-being. Seaweeds used in cooking or as condiments and even for eating as a quick healthy snack are collectively known as Seaweed SensationsTMThis range contains one of the most extensive ranges of seaweed botanicals available anywhere on the internet; currently comprising of some 12 different seaweeds including dulse, Irish moss and kelp.

We also produce a range of beauty products called PhycomerTM which focuses exclusively on hydrating and moisturizing your skin and hair while maintaining that youthful glow. All Pycomer products are free from any artificial man made chemical additives, producing a range of gentle mositurising toiletries suitable for the whole family including those with skin conditions such as psoriasis and acne. The products range from organic seaweed soaps to rejuvenating and relaxing seaweed bath products to relax your body and mind while cleansing and detoxifying your whole body.

Finally, we have formulated a special blend of green marine clays and natural algae to produce face and body masks of unequalled quality and activity. This product range is called MudWorks Inc.TM. This living formulation is the same as, and in many cases an improvement on expensive health spa treatments, which can be used in the comfort of your own home for a fraction of the price.
Loading